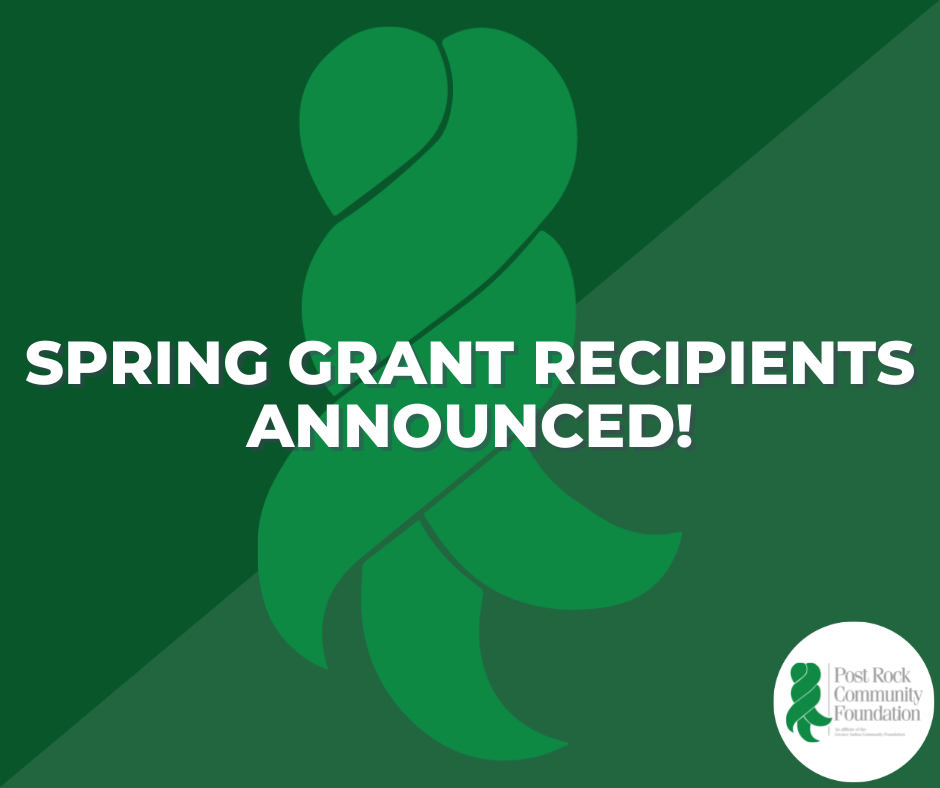 Community foundation awards over $36,000 in spring grants
SYLVAN GROVE, Kan.— During its spring grant cycle, the Post Rock Community Foundation awarded over $36,000 to ten projects throughout Lincoln County and those served by USD 298 and USD 299. The following organizations received funding:
City of Sylvan Grove, $6,000 to install crushed limestone on the walking and biking trails to provide a year-round all-weather surface.
USD 299, $1,500 to repair and maintain school-owned instruments due to use over the years.
Lincoln County Historical Society, $5,000 to purchase and install a new HVAC system for the west museum addition.
Bud Finch Memorial Community Theatre Foundation, $10,000 to replace the current sound system to a newer updated model.
USD 298 Lincoln, $1,000 to obtain new auto-shade welding helmets for students.
USD 298 Lincoln, $5,000 to purchase a mountable projector and motorized projection screen for the commons area.
USD 298 Lincoln, $440 to purchase a 3D printer and operating materials for the LES STEM classes.
USD 299, $1,799.91 to purchase new document cameras to provide each classroom with a reliable camera.
Lucas Public Library, $1,000 to have a mural painted on the south exterior wall of the library, painted by local artist Erika Nelson.
Lincoln PRIDE, $5,000 to create a music park by permanently mounting music instruments in the ground for everyone to enjoy.
This round of grants was made possible by five funds at the community foundation: the Dane G. Hansen Community Grant Fund, the Post Rock Community Action Fund, and the Sylvan Area Fund, which all focus on improving quality of life throughout the county, the Kansas Health Foundation Fund for Post Rock and the Post Rock Healthy Living Fund both of which supports the public health of Lincoln County and those served by USD 298 and 299.
The foundation's next grant cycle opens August 1, with online applications due October 1, 2022. For more information, visit http://postrockcf.org/search-apply-for-a-grant/.